1879. The new Palace Hotel was open, designed by local architect M.F. Bell with 50 rooms for $9200.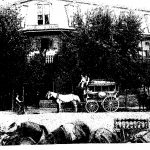 1890. An addition on east side adding 20 rooms and a dining room.
1904. Gas lights replaced with electric and lobby floor was replaced with Marble from the Missouri Building at the 1904 World's Fair.
1930. Third floor mansard roof removed and replaced with art deco designed stucco roof.
1990. Stucco 3rd floor was removed and new mansard roof 3rd floor installed. Interior was gutted. Restaurant bar was redone. First floor built out as office space.
2004. Broker of Century 21 McDaniel Realty buys Palace property.
2005-2006. Second, third floors installed as office space. Elevator installed.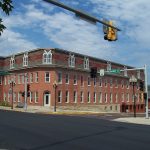 2006 Century 21 McDaniel Realty moves into the Palace Building on the second floor.